What a week! Actually, what a 3 weeks!
Three weeks ago (as I write this), Thursday, 11th April at 1:07:14 PM to be absolutely exact, I was doing something probably unimportant to do with work when my email yelled at me. I decided to ignore it and spend 5 minutes finishing whatever silly thing it was I was doing. When I did look at the email my heart didn't stop. It started to pound rather fast and seemed to have found its way to my throat. I work with cardio doctors and I might have to ask them if that's at all physically possible. It was an email from Librarygirl, one of the other AA@RAC forum moderators and RAC web mistresses. The subject line of the email read 'DEB. Is this near you?'. She'd got the alert and was busy posting it everywhere. 'This' was a special encore screening of The Hobbit then a LIVE Q&A with the star of The Hobbit – Thorin Oakenshield 'in the flesh'. For anyone not familiar with Australian geography, 'near' is a relative term in this context. For instance, it's a 5 hour flight from Perth on the west coast to Sydney on the east. I live an hour from Sydney. So, yes, for this I do live 'near'. My first questions were, this is real? It's not a con? To have cast members in Melbourne and Brisbane for Supernova was terrific. But – Richard. In Sydney? OMIGOSH!!!!!! All of this was going through my head as I was, my fingers trembling, clicking on the link to the Popcorn Taxi site and booking my ticket. In the not quite back of my mind was the niggling thought that my credit card had reached its limit. On top of which, the site, which has a time limit for booking, had a problem with my mobile number and I had to put it in twice. Second time worked and Visa, bless its cotton socks, allowed the purchase. Yay! Happy, hysterical fangirl.
The next step was to try and remember all the Aussie Richard fans I could think of. I know I forgot some; it was like trying to remember all Snow White's 7 dwarves; 13 dwarves – no problem.
Then – a flashback to Vicar of Dibley – '19 days! Only 19 days! C'mon!' Richard's going to be in Sydney in 19 days!
There's a line in an old Kenneth Branagh movie, 'It's like you wake up in the morning and your cat talks to you!' Well, this was like having 5 cats and they all start talking at once in different languages. I've been a fan of Richard Armitage for 7 years and I was very used to the idea that he lived and belonged in the northern hemisphere. I'd got very comfortable with that idea. Then, of course he was cast in The Hobbit and I could look up at the night sky and tell myself, 'He's looking at the same stars I am' (happy fangirl sigh). And, don't pretend you don't know what I'm talking about! But he was still in another country. Now he was going to be in the same city and I would be in the same room. Should I ask a question? What should I ask? And, while I was wondering that, so were all the other Aussies who were booking tickets and seats on flights and wondering about accommodation and how would Richard's fans know each other? We were coming from all over Australia – Western Australia, South Australia, Queensland, Victoria and New South Wales. There was even someone coming from New Zealand! The next 19 days were full of mad, hysterical and excited emails, tweets and forum messages and decisions about yellow roses, plushies and Little Thorins.
Then a few days before May Day came those beautiful photographs by Tracey Nearmy and we knew he was actually here and wow, did he look pretty wonderful. After that the rush was really on. There was news he'd be on Canberra's Scotty & Nige show on the Wednesday morning and on Dan & Mazz in Sydney on the Tuesday night. I was on the train on May Day morning when I heard about the 2 very lucky fans who'd got to see him, and get photographed with him, when he was at WIN Channel 9's 'Mornings' show that day. Serious fangirl envy. I don't know what the reaction was to Dan & Mazz but the worldwide fandom trended Scotty & Nige on Twitter. Scotty (or, possibly Nige) said they'd never encountered anything like Richard's fans. (There are downloads of the interviews HERE and transcripts HERE.) I was listening to their show, grinning madly, as I was getting ready to leave having had about 4 hours sleep and woken to the most beautiful sunrise that turned the world gold. All the predictions were for rain. What an omen!
There were a bunch of us staying at a great little place called the Neutral Bay Motor Lodge, right on one of Sydney's lovely little inner Harbour bays. It's a quick ferry ride across the Harbour and it was a glorious, crisp, though a little smoggy morning. I met up with the ladies there and, after checking in, we all headed up to Cremorne – some of us walked up the quite steep hill, which took about 25 minutes and some others hopped a taxi. We'd arranged to meet everyone else we'd been in contact with, and anyone else who'd been in touch though Twitter and Facebook, outside the cinema at about mid-day, get some lunch and then decide whether to hang around the area, keeping any eye on the theatre or go back to the hotel. The Hayden Orpheum's a beautiful, restored Art Deco cinema with 6 theatres ranging in size from the The Hayden seating 121 to The Orpheum seating around 714 and that's where the event was being held. By the time we decided to look for a place to eat there were about 20 of us and, as lunch progressed, more arrived. I think there would have been between 20 and 30 people coming and going from the lovely Italian restaurant we found. I'm sorry if we missed meeting anyone. It was such a chaotic day. It was fabulous meeting new friends who many most of us only knew online, and renewing old friendships. I think every time there's a meetup we fantasize that Richard will be there. And, now, effectively, he actually would be! It was around 3pm by the time, lunch over, 3 of us, Aussie Indie, Ladypolanna and me, decided to mark out our place at the theatre while the others went back to wherever they were staying to try and chill out and get ready.
This image is reduced by 7%, click it to view full size.


(thanks to Popcorn Taxi's Facebook page)
The theatre staff were really nice and very helpful when we asked if we could stay. Actually, as soon as we told them we were there for the Popcorn Taxi Q&A they gave us the great news that it was sold out! They told us we could park ourselves outside the theatre, upstairs. We were the first! So, very happily, we trotted up the stairs, unfolded the life-size cardboard cut-out of Thorin someone had brought with them and settled in for the afternoon. About an hour later, a group of about half-a-dozen girls in their twenties arrived (one wearing a Bofur hat) and, shortly after that, a couple of older women; the queue had started in earnest! We texted the others in our group that people were arriving. Popcorn Taxi's desk was set up, downstairs, at around 4.30pm so we took turns to get our tickets, leaving someone behind to make sure we didn't lose that precious spot outside the doors. It didn't take long for the room fill up with people we knew, other Richard fans and Hobbit fans. There would also have been a good number of people who are regulars to Popcorn Taxi's events. We didn't find out until much later that, by about 6pm, the queue went around the block to the carpack at the back of the theatre. A couple of our friends who'd come from work, were caught in it so, sadly, were way at the back of the theatre.
It was a great, happy, holiday atmosphere in the foyer outside the doors. Aussie Indie had been given a packet of balloons left over from an Aussie meetup and what with those being blown up and distributed and the cut-out Thorin, our little spot got some grins and laughter. Also the attention of the theatre staff, security and Popcorn Taxi who were all worried about the balloons escaping. We reassured each of them that the only hot air was ours and we'd keep the balloons under very tight control. As the time got closer and the crowd began to press in, Aussie Indie worked a deal with the girls who'd arrived after us that, as far as possible, we'd take the first 2 rows to the left of the centre aisle and they would take the first 2 rows to its right. (And, let me tell you, for an event like this, you need an Aussie Indie with you.)
FINALLY, at 6.30 the doors were opened and in we poured. Because of Aussie Indie's arrangement, I found myself sitting second to the left of the centre aisle. In front of me, only a few feet away, with nothing between but a cord, was the stage, bare except for 2 chairs and 2 microphones on the floor beside them. The chairs were angled, facing each other. At this point let me say that I managed to get to the ARIA black carpet in November. I did see Richard – and Andy Serkis and Martin Freeman – from about 50 feet away and they didn't end up coming anywhere near the fans. Now, I was going to be less than 10 feet from him. O.M.G.! I can't describe the sense of excitement and, maybe, just a little disbelief in the room as we waited, not knowing, really what to expect. It seemed like forever but, promptly at 7pm, Chris Murray, Popcorn Taxi's Creative Director, took the stage. That got the classic initial storm of applause which immediately dropped off when we realised he wasn't Richard. After some brief introductory comments, and handing out some beautiful Thorin pics signed in silver for some of the fans who'd come from a distance, he told us we would first be seeing a 'never-before-seen in this format behind-the-scenes 12-minute video' followed by the Q&A. Actually, as it turns out, a few of us recognised the video, it had been aired on WIN (Channel 9) over Christmas as The Making of the Hobbit ).
The video finished and people began to look around to see where Richard would come from. THEN, FINALLY from a door beside stage right, he was there. Really there! As he came down the stairs the applause started. As he stepped onto the stage the first several rows at least stood up to give him the ovation he so very much deserves. What a moment! And, squeeeee! His chair was angled IN MY DIRECTION! During the Q&A Hobbit graphics were projected onto the screen behind Richard and Oscar (and, as someone pointed out, one of them actually was a fan graphic of Thorin that used a line from one of Richard's best audiobooks, Lords of the North, "My path is the sword path").
There are 2 excellent transcriptions of the Q&A, one by TheOneRing.net and another from Groovergreen so I won't even try to go over the questions. But there were some standout responses from Richard I just have to share. To the question about being type cast in broody roles, 'But of course I fantasize about playing the romantic lead and the heroic character I just don't think my face suits that – I think there's just something'. Hopefully, judging by the crowd response, he's rethinking that one. Then there were the questions that gave him the chance to take digs at the other cast members – who'd win in a cage fight between Thorin and Dwalin? (expression and body language – well, d'uh!) – and, if you can, check out Dwalin's response on Twitter!; how did he find the orc chase scene because the Supernova cast members said it was exhausting ('they're just weak!'); and, of course, 'that' calendar, which, contrary to Graham McTavish's account, was Richard's idea. Of course there were a couple of people who became so overwhelmed their questions got very tangled and confused, which was understandable. The one question I'm sorry could not be answered, probably because of time, was one from a music student who, with her friends, had developed an arrangement of Misty Mountains and asked, if they played it, would Richard sing it with them? I hope she heard Richard's answer. In a voice just like Harry telling Geraldine he does want to marry her – only Thorin-deeper – and recalling the tone of the Riddles in the Dark, he said, 'The answer, is – Yes!'. Maybe there'll be another time.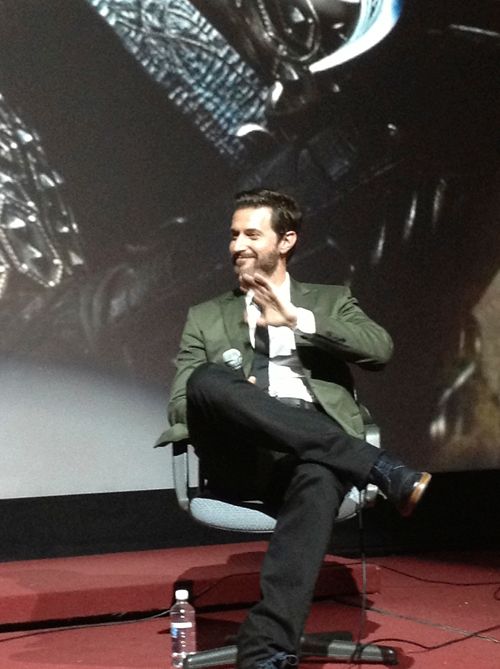 I don't think 45 minutes has gone so quickly and what a glorious, unforgettable, UNEXPECTED 45 minutes. Richard seems to have spent the previous days doing interviews back-to-back and must have begun to feel a little glassy-eyed, yet he was all we've come to expect and admire, generous, thoughtful, funny, intelligent, patient and gloriously cheeky. One luck lady in our row who gave him an enthusiastic wave, got a lovely smile and little wave back; someone else got a direct look into her camera. You could see his theatrical training in the comfortable, engaging way he related to his audience and his years of being the front man for just about every production he's been in since North & South back in 2004 in the way he managed the questions. If there was anyone not standing up when he walked onto that stage, they were absolutely on their feet when he walked off it.
This image is reduced by 7%, click it to view full size.


(thanks to Popcorn Taxi's Facebook page)
Oh, and one, final thing. In answering one question he referred a little to the third movie and the Battle of the Five Armies. To the delight of his fans – as distinct from the many Tolkien and movie fans who were there – he threw out a cheeky grin and, 'I think it should be called The Battle of the Six Armies!'